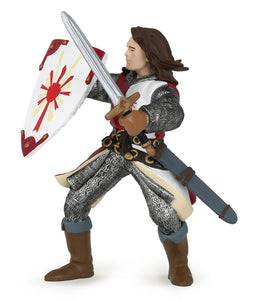 Lancelot du Lac, son of King Bano Benoïc and Queen Elaine, was an outstanding knight. Noticed by King Arthur for his many talents, he was invited to the class and became one of the knights of the round table. Over time, he established a strong friendship with the king who commissioned him to make the legendary quest for the Grail.
All of Papo's figurines are hand painted and highly detailed with a natural color-scheme making the figure extremely realistic looking.

Measures approximately 2.6" x 1.9" x 3.8"