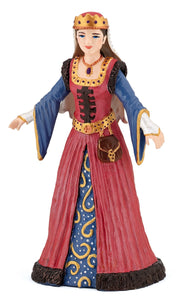 The Medieval Queen preaches a great sweetness that can be read on her face, which contrasts with the Middle Ages and her difficult everyday life. Her husband is gone to war in remote areas that she does not know and she does not know when he will return. She is in charge of the castle and the people who work there, she must protect them with the help of some knights and soldiers who did not go on a crusade.
All of Papo's figurines are hand painted and highly detailed with a natural color-scheme making the figure extremely realistic looking.

Measures approximately 2.2" x 1.7" x 3.7"