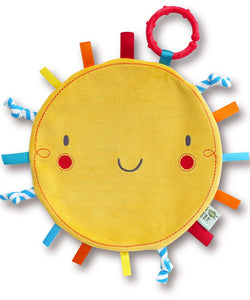 Babies and toddlers will love taking their smiley sunshine friend everywhere with them!
This colorful sunshine comfort blanket is a friendly face designed to provide comfort and security for little ones.
Made with velour and jersey fabrics that are super soft to touch.
The soft fabrics and multi textured tags, provide tactile stimulation for newborns. 
The teething ring can also attach to car seats,strollers and highchairs.
Machine washable.
Suitable for newborn and up.