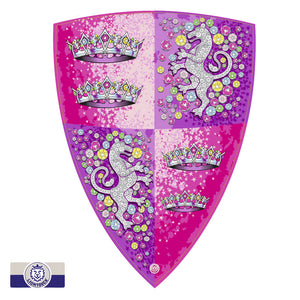 Who says princesses shouldn't fight? The Crystal Princess can do anything she wants and what she wants is to show everybody that she can fight just as well as the knights – perhaps even better!
The design is made by the princess herself and reflects her love for shiny crystals and sparkling diamonds. But make no mistake; this princess can fight her own duels!
All Liontouch pretend-play items are made from EVA foam, ensuring play remains safe! EVA foam is very light, waterproof, insulating and shock absorbing.
Pretend-play builds social and emotional roles in life. And, exercising the imagination develops self-confidence, leading to better problem solving in the future.

Designed in Denmark.
Recommended for ages 3 years+.