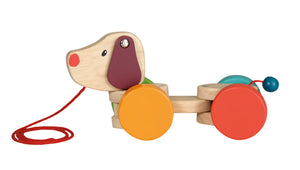 This adorable wooden dog has floppy ears, colorful wheels and the connection between his front and back enable him to move straight and turn corners! His cute short tail bobs up and down as he moves. 
Playing with pull-along toys helps develop gross motor skills as little ones practice hand-eye coordination and balance. And, it keeps kids up and moving!
All Egmont Toys pass rigorous European and US Safety test, so you can rest assured this toy is safe.
Recommended for ages 12 months+
7.5"x 3.9" x 2.8"