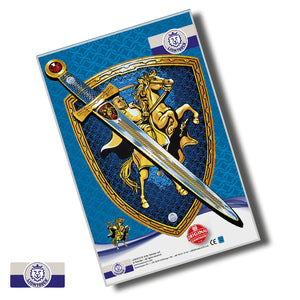 The Knight set is Liontouch's complete knight solution. This set contains a sword and shield, both decorated with the golden knight on horseback. The products are made with a focus on design and detail, from the background of the shield to the handle of the sword, which is made up of a woven pattern. Any small knight is ready for battle with this set.

All Liontouch pretend-play items are made from EVA foam, ensuring play remains safe! EVA foam is very light, waterproof, insulating and shock absorbing.
Pretend-play builds social and emotional roles in life. And, exercising the imagination develops self-confidence, leading to better problem solving in the future.

Designed in Denmark.
Recommended for ages 3 years+.